The nurse was fired after she allegedly posted to the anti-vaccination Facebook page.
(iStock)
A nurse in Texas was fired after she allegedly posted about a young patient who may have the measles on an anti-vaccination group's Facebook page, officials with the Texas Children's Hospital in Houston said this week.
The nurse, who has not yet been named, allegedly posted to a Facebook page called "Proud Parents of Unvaccinated Children – Texas" regarding a boy, between the age of 1 to 3 years old, who is being treated at the hospital for a possible case of the measles which he contracted overseas, the Houston Chronicle reported.
In since-deleted posts, the nurse shared her experience of treating someone with measles for the first time.
32 CHILDREN'S MEDICINES RECALLED OVER CONTAMINATION
"I think it's easy for us non-vaxxers to make assumptions, but most of us have never and will never see one of these diseases," she wrote, according to a screenshot obtained by the Houston Chronicle. "By no means have I changed my vax stance, and I never will. But this poor kid was bad off and as a parent, I could see vaccinating out of fear."
She allegedly added that she plans to continue "along my non-vax journey with no regrets, but I'll definitely have compassion to those who vehemently vaccinate."
An investigation into the nurse's statements was sparked after a "concerned parent" flagged the post to the hospital, People reported.
The nurse was removed from the toddler's care on Friday before she was fired on Monday, a hospital spokesperson confirmed to Fox News on Wednesday.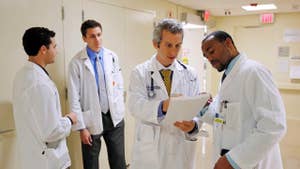 Measles vaccine isn't dangerous: Dr. Marc Siegel
"We were made aware that one of our nurses posted protected health information regarding a patient on social media," a hospital spokesperson told Fox News in a statement. "We take these matters very seriously as the privacy and well-being of our patients is always a top priority. After an internal investigation, this individual is no longer with the organization."
The hospital clarified it didn't fire the nurse because of her anti-vaccine views, but rather because "she posted protected health information," according to the Houston Chronicle.
While the Houston Health Department reported the boy has the measles, the Center for Disease Control and Prevention (CDC) must also confirm the finding. The last reported case of the measles in Houston was in 2013, according to the paper.
Measles is a highly contagious virus that typically begins with a fever, cough and runny nose. Days later, the virus usually leads to a rash that can eventually make its way across the body, according to the CDC.
However, the potentially deadly virus can be prevented with a vaccine.
CHILDREN'S ADVIL BUBBLEGUM FLAVOR RECALLED DUE TO OVERDOSE CONCERNS
"Measles can be prevented with MMR vaccine. The vaccine protects against three diseases: measles, mumps, and rubella. CDC recommends children get two doses of MMR vaccine, starting with the first dose at 12 through 15 months of age, and the second dose at 4 through 6 years of age. Teens and adults should also be up to date on their MMR vaccination," the CDC states on its website, adding that two doses of the vaccine are about 97 percent effective in preventing the virus.
Madeline Farber is a Reporter for Fox News. You can follow her on Twitter @MaddieFarberUDK.
Source: Read Full Article