First-year psychiatry resident Jake Goodman, MD, knew he was taking a chance when he opened up on his popular social media platforms about his personal mental health battle. He mulled over the decision for several weeks before deciding to take the plunge.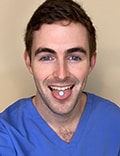 Dr Jake Goodman
As he voiced recently on his TikTok page, his biggest social media fanbase, with 1.3 million followers, it felt freeing to get his personal struggle off his chest.
"I'm a doctor in training, and most doctors would advise me not to post this," the 29-year-old from Miami, Florida, said in the video last month, which garnered 1.2 million views on TikTok alone. "They would say it's risky for my career. But I didn't join the medical field to continue the toxic status quo. I'm part of a new generation of healthcare professionals that are not afraid to be vulnerable and talk about mental health."
"Dr Jake," as he calls himself on social media, admitted he was a physician who treats mental illness and also takes medication for it. "It felt good to say that. And by the way, I'm proud of it," he said in the TikTok post.
A champion of mental health throughout the pandemic, Goodman called attention to the illness in the medical field. In a message on Instagram, he stated, "Opening up about your mental health as a medical professional, especially as a doctor who treats mental illness, can be taboo…. So here's me leading by example."
He also cited statistics on the challenge: "1 in 2 people will be diagnosed with a mental health illness at some point in their life. Yet many of us will never take medication that can help correct the chemical imbalance in our brains due to medication stigma, the fear that taking medications for our mental health somehow makes us weak."
Mental health remains an issue among residents. Nearly 70% of residents polled by Medscape in its 2021 Residents Lifestyle & Happiness Report said they strongly or somewhat agree there's a stigma against seeking mental health help. And nearly half, or 47% of those polled, said they sometimes (36%) or always/most of the time (11%) were depressed. The latter category rose in the past year.
Goodman told Medscape Medical News he became passionate about mental health when he lost a friend in college to suicide. "It really exposed the stigma" of mental health, he said. "I always knew it was there, but it took me seeing someone lose his life and [asking] why didn't he feel comfortable talking to us, and why didn't I feel comfortable talking to him?"
Stress of Medical Training
The decision to pursue psychiatry as his specialty came after a rotation in a clinic for people struggling with substance use disorders. "I was enthralled to see people change their life…just by mental health care." It's why he went into medicine, he tells Medscape. "I always wanted to be in a field to help people [before they hit] rock bottom when no one else could be there for them."
Goodman's personal battle with mental health didn't arise until he started residency. "I was not really myself." He said he felt numb and burned out. "I was not getting as much enjoyment out of things." A friend pointed out that he might be depressed, so he went to see a therapist and then a psychiatrist and started on medication. "It had a profound impact on how I felt."
Still, it took a while before Goodman was comfortable sharing his story with the 1.6 million followers he already had built across his social media platforms.
"I started on social media in 2020 with the goal of advocating for mental health and inspiring future doctors." He said the message seemed to resonate with people struggling during the early part of the pandemic. On his social media accounts, he also talks about medical school, residency, and being a healthcare provider. His fiancé is also a resident doctor, in internal medicine.
Goodman is also trying to create a more realistic image of doctors than the super-heroes he believed they were growing up. He wants those who grow up wanting to be a doctor and who look up to him to see him as a human being with vulnerabilities such as mental health.
"You can be a doctor and have mental health issues. Seeking treatment for mental health makes you a better doctor, and for other healthcare workers suffering in the midst of the pandemic, I want to let them know they are not alone."
He pointed to the statistic that doctors have one of the highest suicide rates of any professions. "It's better to talk about that in the early stages of training."
Students, residents, or attending physicians who have mental health challenges shouldn't allow their symptoms to go untreated, Goodman added. "Holding in all the stress and anxiety and feelings in a very traumatic field may be dangerous. Opening up and seeking treatment, that's the brave thing to do."
One of his goals is to campaign for the removal of a question on state medical licensing forms requiring doctors to report any mental health diagnosis. It's why doctors may be afraid to admit that they are struggling. "I'm still here. It didn't ruin my career."
Doctors who seek treatment for mental health are theoretically protected under the Americans With Disabilities Act from being refused a license on the basis of that diagnosis. Goodman hopes to advocate at the state level to reduce discrimination and increase accessibility for doctors to seek mental health care.
Still, Goodman concedes he was initially fearful of the repercussions. "I opened up about it because this post could save lives. I was doing what I believed in."
So if he runs into barriers to receive his medical license because of his admission, "that's a serious problem," he said. "There is already a shortage of doctors. We'll see what happens in a few years. I am not the only one who will answer 'yes' " to having sought treatment for a mental illness. "The questions do not really need to be there."
For more news, follow Medscape on Facebook, Twitter, Instagram, and YouTube.
Source: Read Full Article