The largest US organization of physicians is seeking to protect residents from disruptions in their training due to potential decisions private equity firms might make about the hospitals they own or in which they hold large stakes.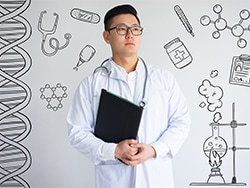 A new American Medical Association (AMA) policy statement calls for actions to prevent recurrences of what's been called a mass "orphaning" of residents and fellows following the abrupt closure in 2019 of Hahnemann University Hospital in Pennsylvania.
More than 570 residents and fellows were left scrambling following the decision by American Academic Health System, an affiliate of the private equity firm Paladin Healthcare Capital, to shut down the unprofitable hospital, the AMA said in a report. The AMA and other medical associations stepped in to aid residents and fellows who lost their training spots and whose medical liability insurance, which covers physicians in case of lawsuits, was put in jeopardy.
"While positive developments have been made to implement protections for residents since the unexpected closure of Hahnemann, we are concerned that these changes are only temporary and may not lead to lasting change or prevent dramatic teaching hospital closures from happening again as a result of private equity investment," said Bobby Mukkamala, MD, AMA's immediate past board chair, in a statement.
The AMA on Tuesday adopted the new policy on private equity and graduate medical education as part of the interim meeting of its House of Delegates in Honolulu, Hawaii.
The new recommendations include:
encouraging residency programs to demonstrate transparency on mergers and acquisitions — particularly as it relates to private equity;

calling for expansion of the Public Service Loan Forgiveness Program to medical student trainees at for-profit hospitals;

supporting publicly funded research on this issue; and

encouraging public statements from physician associations, boards, and societies about the impact of private equity on residency training to heighten awareness.
An AMA report highlights an inherent conflict between the aid of private equity firms and the demands of graduate medical education.
In private equity (PE) deals, investors pool cash to buy businesses with an aim of streamlining operations, cutting costs, and profiting off a quick sale. The return on the investment can be 20% to 30% of the original investment.
"Simply put, PE firms invest in health systems and in healthcare to make a profit," the AMA report said.
But the aims of graduate medical education, including "intentional exploration of self-directed learning and pursuit of scholarly activity," may be at odds with this private equity mandate.
"Education and learning require time and mentoring, especially in GME, and thus it is inherently inefficient," the AMA report said. "PE firms driven toward profit are likely to eliminate or minimize key aspects of trainee professional development."
Increased Scrutiny
New federal and state scrutiny of hospital purchases and sales, however, could make this field less attractive for private equity firms, according to a November 14 report from the firm PitchBook, which tracks PE sales and purchases.
Hospitals are often the largest employers in many communities, leading to more public scrutiny of these sales and purchases, the PitchBook report said. At least six hospital transactions have been cancelled this year following actions by the Federal Trade Commission or state attorneys general, PitchBook said.
"The space is now noteworthy as the only corner within healthcare wherein antitrust and regulatory action are significantly affecting dealmaking," PitchBook said of private equity's interest in hospitals.
Private equity firms owned about 4% of hospitals as of last year, the Medicare Payment Advisory Commission (MedPAC) said in a report to Congress about this sector's participation in healthcare.
MedPAC also said at least 2% of practices were acquired by private equity firms from 2013 to 2016, with these transactions appearing to have continued since.
Many physicians have expressed concerns about how these purchases may affect the practice of medicine. At the AMA June meeting, the association passed a resolution calling for a study of the ethical considerations regarding physician professionalism given the expansion of private equity ownership of practices. Speaking in favor of that resolution was Francis J. Crosson, MD, a former MedPAC chairman and prominent health researcher, the AMA said.
"The notion here is that the private equity firms buy the practices and then their investors expect them to get their money back in roughly 5 to 7 years at a 20% to 30% profit," Crosson said at the meeting. "That's not a situation which leads to an expectation of long-term relationships and with investments in making the practices better — it's quite the opposite."
Kerry Dooley Young is a freelance journalist based in Miami Beach. She earlier covered health policy and the federal budget for Congressional Quarterly/CQ Roll Call and the pharmaceutical industry and the Food and Drug Administration for Bloomberg. Follow her on Twitter @kdooleyyoung.
For more news, follow Medscape on Facebook, Twitter, Instagram, and YouTube.
Source: Read Full Article