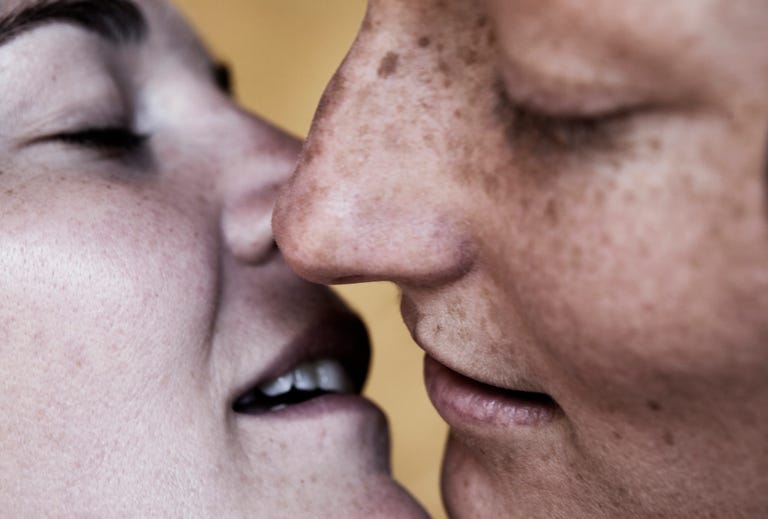 Like most guys, Alex*, 42, watched a lot of porn. The stuff he watched, he told MensHealth.com, followed a very specific formula: "show a naked woman, followed by close-up shots of her breasts and vagina, then show her going down on him before he relentlessly pounds into her."
Also like most guys, Alex took many of his sexual cues from porn, and tried to copy what he'd seen when he had sex with his then-wife. But their sex life eventually became such a huge source of conflict and miscommunication that they eventually divorced.
When Alex got remarried, he decided he wanted to be "the best lover" his new wife had ever had. So he started reading women's erotica as a way to "research what women want." He was surprised to discover something that's probably obvious to most women, but was shocking to him: porn for a female audience was a lot different than porn for men. What was even more surprising? He liked it — even more than the porn he'd been watching for years.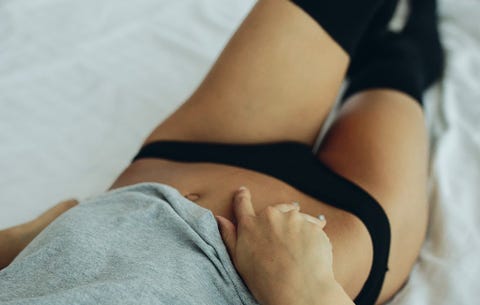 Getty Images
"Porn for women" is a relatively new genre, but it's becoming incredibly popular. Nearly one-third of women between the ages of 18 and 26 have reported watching porn, and according to no more reliable a barometer of American sexual tastes than Pornhub Insights, "porn for women" was the top trending search of 2017, increasing by 1400% that year. The past few years have seen the launch of sites like Bellesa, For Her Tube, Lady Cheeky, and Sssh.com (links NSFW), which feature videos specifically intended for a female audience. Director Erika Lust's site XConfessions also features short films inspired by real women's sexual fantasies, shot and produced by a predominantly female crew.
Generally speaking, "when people say 'porn for women,' what they really mean is pornography that doesn't have so much focus on penetration, where the sex is more connected, often story-driven, or 'softer,'" says well-known adult film director Jacky St. James. "There is a focus more on sex where there is a lot of foreplay, kissing, connection. The lighting is more light and airy. The men are more conventionally attractive (conventionally speaking) and the women are more natural in body type and overall style." ("Porn for women" also tends to feature lots of lesbian sex: women are 445% more likely than men to search for"girl on girl" porn, according to a 2014 report, even if they largely self-identify as straight.)
Porn for women also tends to focus on the couple's mutual pleasure, St. James adds. "There is more of a focus on realistic-looking orgasms and overall connection." Unlike POV porn scenes, where the man's head is often cut off and "it's just a thrusting torso," porn for women usually features "more of the man's involvement in the scene. You see his face, his expressions too."
"There is more of a focus on realistic-looking orgasms and overall connection."
Like Alex, Will*, 35, says he started searching for "female-friendly" porn because he wanted to be a better sex partner for his wife. "I didn't have a lot of sexual experience when we got serious. She never complained, but I wanted to make sure that I made her feel as special, fulfilled, and loved as I did," he says.
Will was surprised to find that he enjoyed it more than the porn he usually watched. "The connections between the performers seem more genuine…there's kissing and raw sensuality. The couples even smile at each other. There's fewer acrobatic positions, so the performers really have time to enjoy each other. I have found the whole thing a turn-on."
Gabe*, 32, says watching porn made by and for women helped him gain a better understanding of what turns his partners on. "It focuses on facial expressions and whole body movements, whereas traditional porn focuses on penetration and jamming your genitals into each other," he says.
While most mainstream porn videos geared toward men skipped foreplay completely and jumped right into penetrative sex, Gabe found that porn for women focused more on foreplay and clitoral stimulation, which studies have shown is crucial to helping women achieve orgasm. "I absolutely prefer it over any other [type of porn]," he says.
Of course, just like men, women's sexual tastes vary tremendously, which means there's not one single definition of what "porn for women" actually is: while one woman may be into narrative-driven, high-budget, soft-core content, another may enjoy watching rougher, kinkier, more intense fare.
"You cannot lump an entire gender into a specific type of pornography," St. James says. "I know quite a few women who enjoy hardcore pornography. I know a lot of women directing this style of pornography because it appeals to them. If you're a woman that loves rougher sex, getting choked, rape fantasies, etc., you're completely normal. Just because we don't call that 'porn for women' doesn't mean it's not porn for women."
Blake*, 41, agrees. "My partner said a lot of porn for women seemed too soft. She heavily favors rough stuff and a little BDSM," says Blake*, 41. "It definitely wasn't for her."
But even if your partner is turned off by quote-unquote "female-friendly" erotica, getting to know their taste in porn can make it easier to talk about what turns them on. It can also help men explore their own sexual tastes and preferences. "My partner shared that she likes watching male gay porn or bisexual porn with male-on-male interaction. I learned quite a bit, to be honest," adds Ryan,* who's 38. "It allowed us to discuss situations and desires that we may not have been comfortable discussing prior." (It also led to them trying out threesomes IRL.)
For Alex, watching porn for women has completely changed the way he has sex in real life. Thanks to his research, he feels much more confident and attuned to his partner's needs during sex. "I try very hard to stay present in the moment with them," he says.
"I also don't do the jackhammer thing that apparently a lot of guys do." That said, Alex notes he hasn't been watching much porn of any kind lately. He says he's too busy doing the real thing.
*Names have been changed to allow subjects to speak freely on private matters.
Source: Read Full Article