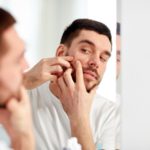 Here are some ways to prevent or lower your chances of a break-out. Some factors you can't control, such as genetics (certain characteristics/traits that are passed down to each generation in a family) and changes in hormones (a substance that the body makes to regulate certain body functions). Here are some tips that may help in preventing oil buildup and pimples.
Wash your skin twice a day (morning and before bed) with a mild soap-free cleanser such as Purpose®, Basis®, or Neutrogena® to remove oil.
Wash your face after you exercise as oil builds up and can clog pores.
Wash your face well after you come in contact with oils or grease such as working in a fast food restaurant.
Wash your hands before touching or rubbing your face and try not to rest your chin, cheek, or forehead on your hand. Just think of all of the things you may have touched during the day with your hands! Breaking this habit may help to clear up most of your problem areas.
Wash your hair regularly especially if it's oily. Oil from your hair can make your face and neck extra oily.
Use "oil-free" sunscreen when you know you'll be outside in the sun. Antibiotics and other acne medicine can make your skin burn faster with sun exposure.
Talk to your medical provider about prescription medicines that can help. There are a number of prescription creams that are very effective in clearing up acne if you apply them regularly.
Don'ts:
Don't scrub your face or use harsh soaps; you can't scrub acne away but you can make your acne worse if you are too rough when washing your face.
Do not use alcohol based cleansing products. Products with a high percentage of alcohol can make your skin very dry and irritated. It actually can cause your body to make more oil that can result in more acne.
Don't pick, pop or squeeze pimples or anything on your face no matter how tempting! All that poking can cause more inflammation and possibly leave you with a scar.
Don't use moisturizers or sunscreens that have oil in them. Look for a label that says "oil free" and make sure you use a "facial" moisturizer, not a "body" moisturizer.
Keep hair products away from your face as they can clog your pores. Wash your face after you use these products to keep oils away.
Source: Read Full Article