Subcutaneous anchors more effective than adhesives in securing catheters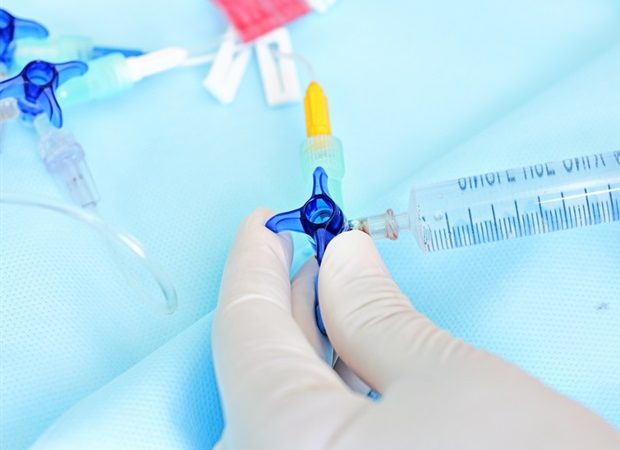 Reviewers' Notes
The largest study of patients with peripherally inserted central catheters (PICC) utilizing a subcutaneous anchoring securement system (SASS) ever conducted shows that using subcutaneous anchors to secure catheters is more effective than using adhesive securement devices (ASD).
The retrospective study was conducted at The Clatterbridge Cancer Centre in England and published in the Journal of Vascular Access on August 1, 2023. It compared the outcomes of using different securement systems in more than 9,200 oncology patients, covering more than a million catheter days, from 2009 to 2020.
A significant outcome of the study found that adhesives devices, such as Stat-Lock or Grip-Lock, put patients at 36 times greater risk of partial or complete dislodgement of their PICC compared to a subcutaneous anchor, such as SecurAcath®.
The results were clear and impressive, say co-authors Carol McCormick, RN, MSc, BSc (Hons), Clinical Interventions Lead Nurse at The Clatterbridge Cancer Centre UK, and Michelle Hawes, DNP, CRNI, VA-BC, ACRP-CP President of the Association for Vascular Access Foundation. Twelve percent of patients with catheters held in place with adhesives required unplanned catheter replacements, compared to only 0.4% of patients with SecurAcath. Prior to the implementation of SASS only 77% of the oncology patients made it to the end of need for their PICC without a replacement required. By 2020, 99% of the patients with a SecurAcath holding their PICC finished their course of need with one catheter. "Based on the evidence, the best instrument for securing a catheter throughout a patient's therapeutic need is the subcutaneous anchoring securement device," says Hawes.
The study suggests that switching to SecurAcath can both improve patient outcomes and reduce overall healthcare costs. Thousands of central venous access devices (CVADs), including central venous catheters (CVCs) and PICCs, are inserted into patients every month. In cancer patients, for example, catheters are used to deliver treatments or nutrition, or to retrieve blood samples. Failing to properly secure these catheters can delay vital chemotherapy, testing, or increase the chances of complications such as catheter-related bloodstream infections, thrombus, dislodgement and catheter occlusion.
Historically, the standard medical practice has been to secure most central venous catheters with sutures and most PICCs with an ASD. While a SASS, commercially available as SecurAcath in 38 countries, developed and patented by Interrad Medical and supplied through Eloquest Healthcare, Inc., in the US, has been available for nearly two decades, many health professionals are not familiar with its use.
When McCormick first introduced SecurAcath to Clatterbridge, "the majority of nurses were fearful of the device," she recalls. Since then, its use has grown. As the only subcutaneous anchor securement system that is designed to secure both central venous catheters and peripherally inserted central catheters, SecurAcath is now used in more than 100 National Health Services facilities across England. However, until this new retrospective study, there has been little conclusive evidence on which securement methods actually prevent partial or complete dislodgement.
Both McCormick and Hawes hope that the evidence from the new study will accelerate the adoption of SecurAcath, currently the only subcutaneous anchor securement system, reducing unplanned catheter removals, complications, and improving patient outcomes. They also expect that the increased use of the devices will bring significant cost savings, despite higher upfront costs, because only one device is required until the catheter is removed unlike all other engineered securement devices, including ASDs. Additionally, a secure catheter will lower hospital readmissions and reduce the need for multiple lines to complete therapy. Indeed, a review by an advisory committee of the UK's National Institute for Health and Care Excellence estimates annual savings at more than £4.2 million.
The new retrospective study adds to a growing body of research showing benefits of subcutaneous anchor devices, including a 2020 study that showed reduced risk of bloodstream infections and a 2022 study that evaluated safety and efficacy outcomes for CVAD securement options. Hawes will present the new data at the October 14-17 Association for Vascular Access 2023 Annual Scientific Meeting, which will be held in Portland, Oregon. Her presentation, "Keep it Simple Specialist: One Securement Device, One PICC, Until the End of Need," will take place on Sunday, October 15 at 1 p.m. PDT.
Source:
Data to Wisdom Research Consulting
Journal reference:
Hawes, M. L., et al. (2023) A retrospective study of subcutaneous anchor securement systems in oncology patients. The Journal of Vascular Access. doi.org/10.1177/11297298231190416.
Posted in: Medical Procedure News | Medical Research News | Medical Condition News
Tags: Blood, Cancer, Catheter, Catheters, Chemotherapy, Efficacy, Healthcare, Hospital, Medical Research, Nutrition, Oncology, Research, Thrombus, Vascular