New England Baptist Hospital has been grappling with a serious problem facing healthcare today — insurers demanding prior authorizations for services ordered by physicians. Meeting payers' requirements eats up time, delays treatment, and can be a costly drain on doctors' practices.
To deal with this problem, the Boston orthopedic hospital has opted to automate submission of prior authorization requests on behalf of more than 100 mostly orthopedic surgeons on staff.
After 5 years using this system, "we can say that automation definitely works," said Lidiya Hadzhieva, director of patient access at the hospital. The software has reduced write-offs by 30% and staff costs by 25%. Prior authorization gets approved 3 days after scheduling, compared with 11 days previously, she said.
"This software not only saves staff time, but it can also more accurately predict when prior authorization is needed," she added.
For practices deluged with required prior authorizations by insurers, automation is emerging as a way for practices to make the process less time-consuming and save money. However, the software can be costly, may not be adoptable to many practices, and many physicians are not even aware it exists.
So far, the software is mainly used at large organizations like hospital systems. But as word gets out and the software becomes easier to use, private practices and other smaller entities may join the automation trend.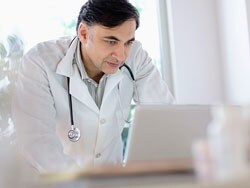 There is definitely a need to automate prior authorization. The American Medical Association reports that physicians spend 16 hours per week on prior authorizations. In a recent AMA survey, more than 60% of physicians indicated that it's difficult to know when prior authorization is needed. And 93% of physicians reported care delays while waiting for authorization, the AMA said.
Experts estimate that 80% of prior authorization work could be automated, but most practices still use the phone or fax, even as numbers of prior authorizations continue to increase.
How It Works
Automation software connects directly to the practice's electronic health record (EHR). "When the doctor places an order in the EHR, the process starts automatically," Hadzhieva said. "The doctor may not even notice it."
In addition to using an EHR connection, many software products can communicate with the payer through its portal or by fax or phone while still automating other parts of the process.
The software's first step is to decide whether prior authorization is needed. This requires having an updated list of the rules that each payer uses for prior authorization. Manually keeping track of payer rules is very time-consuming, but automation uses bots to visit each payer site to look for rules changes. One vender, Infinitus, uses a voice-based bot called Eva that calls up each payer and speaks with a representative.
"Automatically updating payer rules is not a new technology," said YiDing Yu, MD, chief product officer at Olive, the automation vendor for New England Baptist. "What is new in the last 5 years is extracting the information needed for the prior authorization out of the clinical notes."
This is challenging because each doctor has different ways to describe each step of clinical work. To identify this shorthand, Yu said Olive uses natural language processing, which is a form of artificial intelligence that learns how each doctor describes things.
Yu asserts that Olive is actually better than a practice's staff at digging out clinical information. She said staff without much clinical training may miss terms that the software can catch, and they don't have the time to go back many months into the record to find valuable information. But automation can do that.
In some instances, however, the software may not be able to find the information, in which case it alerts staff through a prompt in the EHR and the information is retrieved manually, Yu said.
Next, the Olive software puts the information it found into the request form and sends it to the payer. After submission, the software constantly checks on the status of each request, again visiting payer sites with a bot.
At New England Baptist, the software is used mainly by physicians in fairly small private practices who are on staff. They are using the software on the hospital's dime, but it only works inside the hospital, Hadzhieva said. For their work outside of the hospital, they would have to purchase the Olive software on their own, she said.
Automation Hasn't Spread to Practices Yet
Despite the promising outcomes for products like Olive, automation software is still primarily used by large organizations. Vendors say very few private practices have bought it yet. "The technology works, but it is still in the early-adopter phase," Yu said.
For one thing, the software can be expensive. Very few venders reveal their prices, but Yu did so. She said Olive normally costs about $50,000 a year for even a small organization. She insisted, however, that the savings from avoiding just one denial each month for a hip surgery would justify the expense.
On the other hand, some automation software is free, such as the Surescripts product for prior authorization of prescriptions. But it is unclear whether Surescripts does as much as Olive. Vendors' descriptions of their products tend to be vague.
Also, Surescripts and Olive have entirely separate functions. Yu said Olive is limited to procedures, so it benefits specialties like oncology, neurosurgery, colorectal surgery, vascular surgery, and cardiology. Olive does not cover prescriptions, because they operate on a different technology.
Yu said another hurdle for adopting the software is the kind of EHR systems that doctors use. At this point, only a few EHR systems — such as Epic, Cerner, and Athena — are compatible with Olive. Large organizations tend to use Epic and Cerner, while many practices often use Athena or a variety of other systems, she said.
Despite stunted demand, there is no shortage of companies offering automation software for medical (ie, non-prescription) prior authorization. One compilation lists 25 such vendors, including companies like Myndshft, Rhyme, Infinitus, Infinx, and Waystar. As with any start-up technology, companies occasionally buy out each other.
In addition to issues like cost, specialty, and EHR compatibility, another hurdle is that few doctors even know the technology exists. Vendors say marketing focuses on larger provider organizations, not smaller practices.
Even many tech-savvy doctors, like Adam Bruggeman, MD, an orthopedist and CEO of Texas Spine Care Center in San Antonio, say they know little about the technology. "There is definitely a need to automate prior authorization," he said. "But I don't know of any colleagues who use it." He has only just begun to explore vendors, he said.
Many medical practice consultants also have not yet explored the technology. "Automation makes a lot of sense, because there are a lot of repetitive tasks in prior authorization," said Jill Arena, CEO of Portland, Oregon-based Health e Practices. "But I haven't looked into it yet and none of my clients has even asked about it."
"I could see how it could be an easier sell for large organizations," she added. "They have an IT person and a CFO who can explore the issue. Smaller practices usually don't have that kind of expertise."
Where Does Automation Go From Here?
Until now, clinicians who want to fully automate prior authorizations would have to buy two products — one for medical procedures and one for prescriptions. This has to do with incompatible electronic transmission standards, which are used to digitize information, said Susan Lawson-Dawson, content marketing strategist for the vendor Myndshft Health.
Myndshft has long been selling automation software for medical prior authorizations, but now it is introducing a product for prescriptions, Lawson-Dawson said. She said Myndshft will then be the only vendor to automate both kinds of prior authorizations.
Lawson-Dawson said Myndshft has 685 customers to date and is looking for more business. Recently the company entered the Google Cloud Marketplace. Google Cloud customers can now direct their committed spend with Google to purchasing Myndshft, meaning they could get it at a discount.
Software like Olive and Myndshft can operate independently of payers, but a vendor called Rhyme depends on payers for its software to function, said Rhyme CEO Joe Anstine. He said more than 300 payers have agreed to install the Rhyme system, and Rhyme has signed up a number of large health systems to use the product. Initially, he said, clinicians paid for the service, but now Rhyme is beginning to find payers to foot the costs and to let clinicians use it for free, which would open Rhyme up to smaller practices.
EHR companies themselves are beginning to offer automation, too. Epic, for example, has created a tool for prior authorization as part of its Epic Payer Platform. Like Rhyme, it requires payer cooperation, because information goes back and forth between clinician and payer in what is called bi-directional exchange.
The Epic product is still in its pilot phase. Epic reported that several large health systems were using its product in conjunction with a specific payer — for instance, Mayo Clinic with Blue Cross and Blue Shield of Minnesota and Ochsner Health with Humana. According to Epic, the arrangement reduced Mayo's denials due to additional documentation requests by 63% for professional billing.
Automating with just one payer still means the clinician has to deal with manual processes at other payers. But a large clinician could have sufficient volume with that one payer to make the arrangement useful.
Will Payers Automate Prior Authorization?
Ultimately, payers may take the automation business away from vendors, offering a free product to all clinicians. But don't hold your breath. Payers first have to rebuild their electronic systems to accommodate an electronic connection with providers. Even then, some payers might hold back from automating, forcing practices to continue manually processing some prior authorizations.
Efforts are underway, however, to mandate payers to support prior authorization automation. For this to happen, payers would have to revamp their data so that it could be easily read by practices' EHRs. This would mean adopting a specific interoperability standard called Health Level 7 Fast Healthcare Interoperability Resources (FHIR).
Toward this goal, the Centers for Medicare & Medicaid Services proposes to require payers to adopt FHIR by January 2026. (CMS still has to finalize the rule.) Experts say the two-year ramp-up time is needed because it takes extensive work for payers to translate their data into FHIR.
The only payer so far to switch to FHIR for prior authorization is Regence in Washington state. In a pilot project, it has automated prior authorization with just one provider, MultiCare Connected Care, an accountable care organization (ACO), also in Washington state.
Anna Taylor, associate vice president of population health and value-based care at MultiCare, explained how the arrangement works. "Two separate entities are sharing one operational process," she told Medscape. "That means they can have a digital conversation back and forth, so it is much easier to resolve prior authorization issues."
Unlike many vendor products, the Regence service is free. And while the vendors market only to large organizations, most doctors in the MultiCare arrangement are in independent practices. Taylor said these doctors have been "enthusiastic" about the arrangement.
The results of the pilot are impressive. Taylor said automation has resulted in a 233% productivity gain for MultiCare clinicians, and 89% of submissions to Regence get an immediate response.
There is a potential downside, however, to working directly with payers. A direct connection to clinicians allows payers to access the doctor's clinical notes, which could make many doctors uneasy. But Taylor said Regence only has access to the "discrete data fields" on MultiCare's EHR dashboard, and not to the notes themselves.
The ultimate goal of the Regence-Multicare project is to include more payers and clinicians. Taylor said two of the 27 other payers that MultiCare works with are "highly interested," but it would take a lot of work for them to get connected with practices and other clinicians.
Ultimately, payers could offer automation and third-party vendors might then fade away. However, physicians may resist working directly with payers if the arrangement requires full access to their medical records.
For more news, follow Medscape on Facebook, X (formerly Twitter), Instagram, YouTube, and LinkedIn
Source: Read Full Article