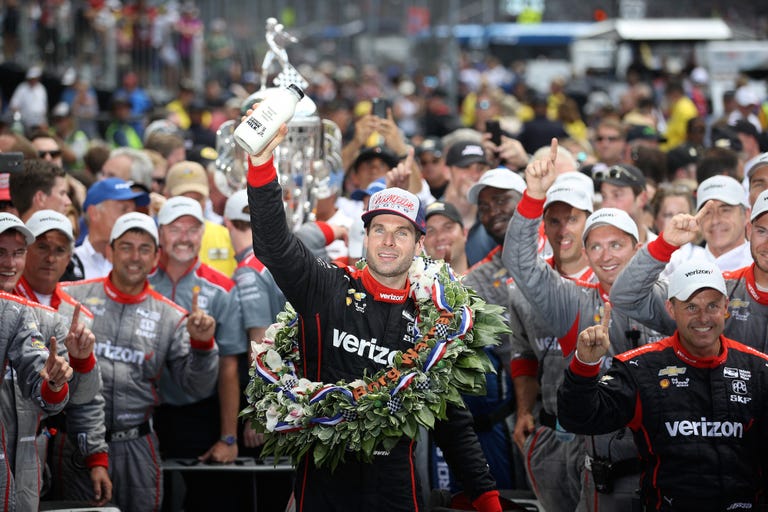 When Will Power won the 102nd Indianapolis 500 race this week, the Australian race car driver didn't even care that he'd been instructed to cut out all dairy by a leading nutritionist. He immediately pulled into the winner's circle and, as has been tradition since 1933, chugged a bottle of milk.
"I was so happy that I didn't care how my stomach would feel later," Power told MensHealth.com. "It was the sweetest milk I've ever tasted."
If you're wondering why the hell a race car driver is glugging down a bottle of dairy right after one of the world's most iconic races, credit there goes to Louis Meyer, who won the Indy 500 in '33. He immediately asked for a glass of buttermilk(!) after his five-hour stint in the car. Apparently, his mom told him buttermilk was a thirst-quencher. When he won again three years later, another glass of buttermilk was requested and the tradition stuck ever since.
Power shared IndyCar drivers get a checklist before the 500 where you can select whether you'd like whole, skim, 2%, or no preference. "I wanted chocolate, but I don't think you can do that," Power laughed. He ticked no preference and got whole milk.
If you told Will Power a year ago, he'd be jumping for joy at the podium of the Indy 500 this year, he'd have perhaps doubted you. "I was in a bad place," Power said. "Just really fatigued and I didn't know why. I couldn't even do a 30 minute workout. I struggled with my energy immensely."
Power consulted Dr. Gabrielle Lyon, a New York City nutritionist who works with Olympic athletes and Navy SEALS. Lyon discovered Power had a serious dairy allergy and, worse, his blood sugar was dangerously low. "That was the culprit. I had issues with a lot of other foods, too, with the various dyes and other compounds, so I started a new diet regimen that cut a lot out. No dairy, no sugar–even from fruit. I don't drink alcohol because of the sugars," Power said.
On his new meal plan, Power found his way back to full steam over the course of the 2017 season. "I was better than I'd ever been. I have years of data from rowing, running, swimming, and cycling, so I knew my levels and now I was breaking records in all of them," Power said. "I felt great and I even improved my memory. I don't think bodies like sugar. You eat some and you have a little spike then you feel down. When you eat the right way, you have a constant stream of energy."
Power definitely was energized during the Indy 500, especially when he found himself running in third place with less than ten laps to go. "I knew I had to save a bit of fuel and then try to get around the two guys. We went under a caution flag, but when the green flag dropped and we were back to racing, I needed to make this the best restart of my career. I've only got one chance to win. When the pits opened back up and they ducked in for fuel, I started thinking, 'I'm actually going to win this thing.'"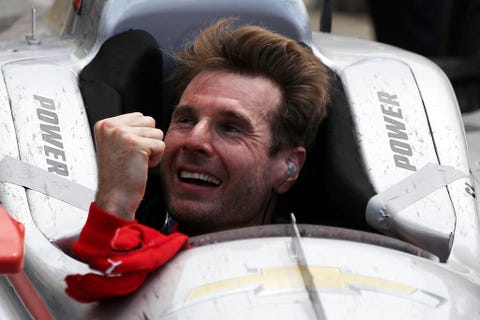 Getty Images
"Your heart is pumping and you've got a spotter in your earpiece telling you three laps left, two laps left, last lap. At that, I started screaming, just in my helmet. This almost angry scream. I was saying 'Finally!' The emotion was overwhelming when you've worked for 20 years to accomplish something and you finally get to achieve it," Power recalled.
That explains why the forbidden milk tasted all the much sweeter.
Source: Read Full Article