From serving as a major in the US Army Reserve Medical Corps to acting as a senior registrar in transplantation at England's renowned Royal Papworth Hospital, Robert S. D. Higgins, MD, has contributed a great deal to the medical world.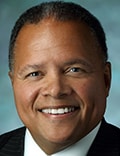 Dr Robert Higgins
Higgins' next chapter takes him to Brigham and Women's Hospital in Boston, where he will serve as president and act as executive vice president at Mass General Brigham. He previously served as Department of Surgery chair and director of the Comprehensive Transplant Center at the Ohio State University Medical Center and later as surgeon-in-chief at Johns Hopkins Hospital. His new role became effective December 2021.
Highly regarded and renowned in his field of work, Higgins is one of the leading authorities in heart and lung transplantation, minimally invasive cardiac surgery, and mechanical circulatory support. He is distinguished as a world class researcher and is acknowledged both nationally and internationally for his research in the areas of heart and lung transplantation and disparities in outcomes in cardiac surgery.
Mass General Brigham President and CEO Anne Klibanski, MD, said Higgins' leadership comes at the right time. "He is the ideal choice at this critical moment in our history to lead Brigham and Women's Hospital, understanding the world ahead of us and the role each of us plays across Mass General Brigham in putting patients at the center of everything we do ― transforming care and making care more affordable, improving outcomes, advancing research and innovation, and expanding our impact regionally, nationally and globally," she said in a press statement.
Higgins has also fulfilled numerous national professional leadership roles, including as the president of the Society of Thoracic Surgeons, president of the United Network for Organ Sharing, president of the Society of Black Academic Surgeons, president and founding member of the Association of Black Cardiovascular and Thoracic Surgeons, and as a member of the board of directors of the American Board of Thoracic Surgery.
Higgins succeeds Sunil Eappen, MD, who served as interim president at the hospital since early March 2021.
More Medical Moves
Not many can say they've served on a presidential response team when the nation is in crisis. Bechara Choucair, MD, did just that. Now, after spending the last year as the vaccinations coordinator on the White House COVID-19 response team, Choucair will resume his role as senior vice president and chief health officer at Kaiser Permanente. Greg Adams, Kaiser's chair and CEO, says, "Kaiser Permanente takes great pride in having one of our very own leaders serve in such a significant role for our nation."
Since Stephen Klasko, MD, joined Jefferson Health in 2013, the organization has grown from three hospitals to 18 with annual revenues that have increased from $1.5 billion to more than $6.7 billion. Marking the end of an era, Klasko announced he will retire as CEO of Philadelphia-based Jefferson Health and president of Thomas Jefferson University at the end of 2021. His leadership will not be forgotten, especially after securing $110 million, the organization's largest philanthropic gift to date, to rename Jefferson Medical College to Sidney Kimmel Medical College during his tenure.
Children's Hospital Los Angeles (CHLA) has announced its new heart institute faculty, which includes many top names in the field:
Darren Berman, MD, has been named director of congenital interventional catheterization, leading CHLA's Cardiac Catheterization Lab, which includes two suites and a host of advanced technologies, including ultra-low radiation capabilities and rotational angiography with 3D imaging of the heart and vessels. Prior to joining CHLA, Berman served as co-director of cardiac catheterization and interventional therapy at Nationwide Children's Hospital in Columbus, Ohio.
Shuo Wang, MD, joins a specialized team of five fetal cardiology experts in CHLA's growing Fetal Cardiology Program, led by Jay Pruetz, MD. Annually, the program conducts over 800 outpatient consultations and coordinates over 150 high-risk deliveries with complex fetal heart disease. Wang is also a member of CHLA's high-volume echocardiography lab, led by Pierre Wong, MD.
Molly Weisert, MD, joins the Heart Institute as a pediatric cardiologist with advanced training in heart failure, ventricular assist device technology, and cardiac transplantation. Weisert's current research interests include failed single ventricle physiology and improved monitoring of these patients, as well as improving the understanding of the graft-recipient relationship and relative immunogenicity of grafts in pediatric heart transplant patients.
Luke Wiggins, MD, joins an exceptional team of seven congenital cardiac surgeons that performs more surgeries on neonates and infants than any other program in the Western United States. Wiggins' expertise with specific research and clinical interest in pediatric valvular heart disease makes him a unique final addition to this powerful faculty foursome.
For more news, follow Medscape on Facebook, Twitter, Instagram, and YouTube.
Source: Read Full Article