Save articles for later
Add articles to your saved list and come back to them any time.
Chemicals in tin can linings, cosmetics, nail polish, teflon pans and flame retardants on cushions have been linked to a steep decline in sperm counts and a potential "crisis in human reproduction", Australian fertility specialists have been warned.
Sperm counts have fallen 52 per cent in the past five decades – and the decline appears to be speeding up – experts at the 2023 Fertility Society of Australia and New Zealand conference were told this week.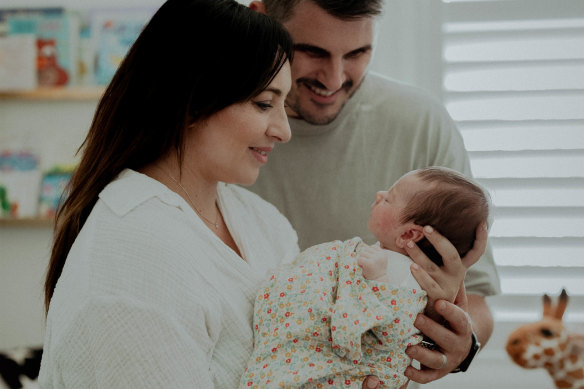 Amelia and Andrew Stojcevski conceived baby Aria with the help of IVF. It took five years to determine that Andrew's sperm motility was the likely reason they were unable to conceive.
Leading environmental and reproductive epidemiologist Dr Shanna Swan has studied the effects of chemicals now common in everyday life and the environment on male fetus development. She was "absolutely stunned" to discover a key reason for falling sperm production was chemicals that can interfere with the body's hormones.
Chemicals known as phthalates, found in personal care products, fragrances, plastics and even dust, were among those affecting development of baby boys, via the mother's exposure in early pregnancy, Swan said. Chemicals known as BPAs, found in plastics, were also to blame.
An exposed boy's future offspring would also likely be affected, said Swan, a professor of environmental medicine and public health at the Icahn School of Medicine at Mount Sinai in New York.
An updated meta-analysis of studies from around the world found sperm counts were declining worldwide "at an even faster rate than we thought".
"It was about 1 per cent per year since 1972, and from 2000 on, it was 2.64 per cent, which says sperm count is declining at an accelerated rate," she said.
Swan predicts that by the middle of the century, many more people will rely on reproductive technologies.
Exposure to phthalates in the womb between days 18 and 21 of fetal development could mean a testosterone surge necessary for normal development of male reproductive organs may not occur.
Swan said her latest research had accounted for differences in the measurement of sperm.
"[The effects] don't stop with the pregnant woman, or the pregnant woman's offspring; the child, in the next generation will be impaired similarly," she said.
"We have a multigenerational impact, and probably impacts on life expectancy and morbidity [illness] are also going to be there for those children."
Professor Roger Hart, lead clinician for the Western Australian public fertility service, is part of the world's oldest longitudinal study of development from pre-birth through to adulthood, the federally funded Raine Study.
He said its findings supported Swan's.
The University of Western Australia professor and sub-specialist in endocrinology and infertility said just 14.4 per cent of boys born during the study – which began in 1989 with a cohort of almost 3000 women – had sperm counts that met the minimum standard.
One Raine finding was that sperm concentration and motility in the offspring were significantly linked to BPAs in the mother's blood.
"We found if the boy's exposure to phthalates was higher in utero, [then] when they were 21 their testicles were significantly smaller. According to how much exposure you had, testicular volume was reduced," Hart said.
"It is very much in line with Shanna's [work]; she's reporting that sperm counts have dropped by half in 50 years … Obviously, we need to study further to see what the causes [of sperm decline] are – but this is pretty amazing stuff."
But associate professor Tim Moss, of the not-for-profit men's health organisation Healthy Male, urged caution in drawing a link between chemical exposure and men's infertility.
Moss, a former president of the Perinatal Society of Australia and New Zealand, said he believed the studies examined by Swan's group were limited.
Hart's work showed effects of BPAs and phthalate exposure were "borderline, if anything; but this does not mean that there is not an effect", he said.
Moss argued three years ago in The Conversation that the "doomsday scenario" for sperm production suggested in Swan's original metanalysis had not been adequately proven.
"It's reasonable to expect chemicals that affect hormone function in our bodies … could affect reproduction in males and females, given available evidence. But we don't have irrefutable proof," he wrote.
Andrew and Amelia Stojcevski used IVF last year to conceive baby Aria, now five months old.
It took five years for the couple to learn that Andrew's sperm motility was the likely reason they had failed to conceive, which he described as "a shock".
He had wondered if it was his age, stress, or lifestyle to blame for his fertility issue, but said the cause remains unidentified.
"The ego side and the bravado side of [having impaired sperm motility] doesn't play a part in it: for me, because I just wanted to have a child, I'm happy we've got the outcome," Andrew, 46, said.
The Morning Edition newsletter is our guide to the day's most important and interesting stories, analysis and insights. Sign up here.
Most Viewed in Lifestyle
From our partners
Source: Read Full Article